Vijayanagara Channel (VNC) System is a run-of-the-river irrigation channel system built during the Vijayanagara Empire more than 600 years ago. Originally consisting of 19 channels, one channel (Rampura) caters to the irrigation needs of the neighboring state of Andhra Pradesh. Among the rest 18 channels that serve the command area in Karnataka, Bennur Channel is in ruins, while Koregal Channel command receives water from the Tungabhadra Left Bank Channel. The VNC was constructed within the Tungabhadra basin in the reach starting from the Tungabhadra reservoir in Koppal District. Within the State, the VNC system spread across 3 districts, namely, Bellary, Raichur and Koppal and lies between latitude 14°30' to 16°34' N and longitude 75°40' to 77°35' E.
The modernization (rehabilitation) program under Karnataka Integrated and Sustainable Water Resources Management Investment Program (KISWRMIP) assisted by Asian Development Bank (ADB) comprises modernization (rehabilitation) of three Projects-Gondi, VNC and TLBC initially under two tranches. The Gondi modernization under Project 1 has begun in July 2015 and has been completed by 31 December 2019. The Tranche 2 comprises modernization (rehabilitation) of Vijayanagara Channels. Modernization and total automation of Tungabhadra Left Bank Canal is to be taken up as a separate project. The multi-tranche facility for the two tranches will be closing in the year 2024.
There are three outputs for each of these projects including VNC:
Output 1: State and Basin Institutions Strengthened for IWRM;
Output 2: Irrigation System Infrastructure and Management Modernized, and
Output 3: Project and Management Systems Operational.
VNC modernization aims at improving water use efficiency in the Culturable Command Area (CCA) of 11,154 ha. Along with modernization (rehabilitation) works, installation of flow measurement and telemetry, command area development works, strengthening asset management and main system, Operation & Maintenance (O&M), and institutional strengthening and capacity building of WUCS will be taken up.
The scope of VNC modernization includes rehabilitation of 12 anicuts, 215.31 km of canal sections and other appurtenant structures. The program aims at enhancing water security through modernization of existing irrigation projects/schemes, improved water resources management and other associated infrastructure activities in select river basins.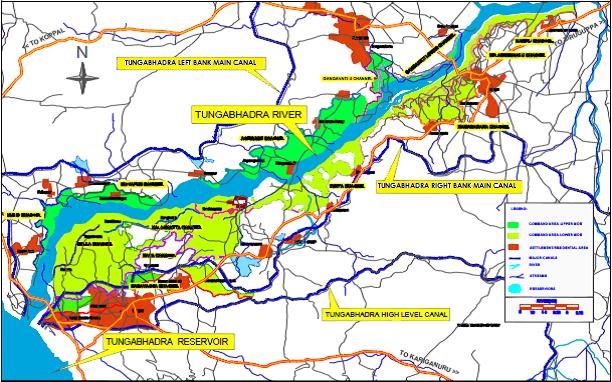 Salient features of the Vijayanagara Channels
Right bank of TB River

S.No

Name of the Channel

District

Length  in Kms

Command Area in Ha

1
Raya
Vijayanagara
27.74
2226
2
Basavanna 
Vijayanagara
16.5
1240
3
Bella 
Vijayanagara
5.5
600
4
Kalaghatta
Vijayanagara
7.02
237
5
Turtha 
Vijayanagara
18.69
931
6
Ramasagara
Bellary
15.5
673
7
Kampli
Bellary
23.55
620
8
Belagodahal
Bellary
11.22
210
9
Deshanuru
Bellary
9.03
478
10
Siruguppa
Bellary
10.85
764

Left bank of TB River

11
Huligi
Koppala
10.69
265
12
Shivapura
Koppala
6.54
403
13
Anegundi
Koppala
19.44
789
14
Gangavathi Upper
Koppala
9
775
15
Gangavathi Lower
Koppala
9.54
667
16
Bichali 
Raichur
14.5
276

Total

11154
Vijayanagara Channels Feasibility Study Reports
Vol 2a: Environmental Impact Assessment
---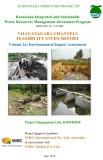 Vol 2b: Rapid Biodiversity Assessment
---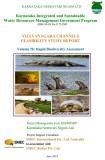 Vol 2c: Tree Survey Report
---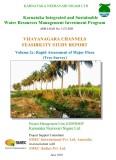 Vol 2d: Environmental Assessment Review Framework
---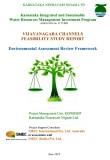 Volume 3a: Poverty and Social Assessment
---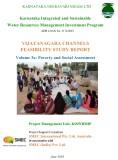 Volume 3b: Social Safeguard Due Diligence Report
---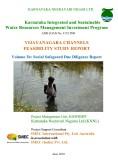 Volume 3b: SDDR-Annex-2 Sample Stripmap
---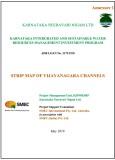 Volume 3c: Resettlement Framework
---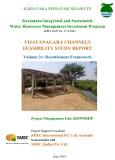 Volume 3d: Summary Poverty Reduction and Social Strategy
---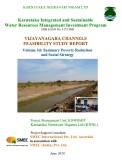 Volume 4: Economic and Financial Analysis
---